Publisert:
Sist oppdatert:
Amerikansk fotograf og skribent som fanger den troverdige kåthet i en panseksuell mangfoldighet. Han er en mesterlig formidler av seksuell nytelse og glede.
Siste fra David Steinberg: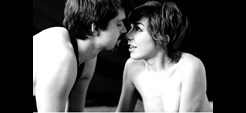 David Steinberg: My Most Versatile Subject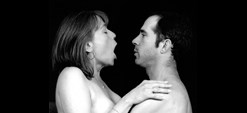 David Steinberg: A Remarkable Week of Sexual Photography
Siden 1999 har David Steinberg fotografert over 170 voksne par av alle kroppstyper, etniske grupper, seksuelle orienteringer og seksuelle preferanser. David utykket det slik: «Målet mitt er å produsere bilder som er følelsesmessige sterke og erotiske, og å fange ekte, intime seksuelle relasjoner til de menneskene som tillater meg og kameraet mitt i deres mest personlige sfære»
I over 20 år har mer enn 600 av David Steinbergs bilder blitt publisert i Cupido. Her vil vi nå, i en helt spesiell og unik fotoserie, presentere ett utvalg av disse fotograferingene sammen med Davids historier bak kulissene fra de individuelle fotoseansene. Hver måned kommer to historier med tilhørende bilder.
David Steinberg - Erotisk bildegalleri og historiene bak kulissene (C+ eller VIP):
Begynnelsen
 I øyeblikkets hete
Heated up and cooled down
Fotografering av fotgrafen
Juliet & Victor
SexAbility
Et spesielt rom for spesiell lek
Hairotica
NEW HORIZONS

When Sex Is Not About Performance

Sex Surrogacy as a School Project

Bella and her fiancé

Ginger & John: A Private Person Decides to Go Public with His Sexuality

David Steinberg: Why Can't We Go On as Three?

David Steinberg: Michael and Isis
David Steinberg: Sex Party Special Feature
David Steinberg: Sex Party Special Feature - Part 2
Keith and Daphne - Circles
David Steinberg: A Very Special Photo Shoot
David Steinberg: A Demonstration Photo Shoot
David Steinberg: Visitors from France
David Steinberg: Multiple Partners, Multiple Loves
David Steinberg: A Tribute to Allena Gabosch
David Steinberg: Daniel and Patrick

David Steinberg: Photographing the Erotic Contact Jugglers

David Steinberg: True Love - Portraits of Transsexual Women
David Steinberg: Once More – With Feeling!
David Steinberg: Sex for One

First Time in Front of a Camera

A Gathering of Friends
Coming Back for More
David Steinberg: Joyful Play
Sex and Disability Activist
David Steinberg: Erotic by Nature
David Steinberg: Sexual Spirituality
David Steinberg: Pleasure Marathon
David Steinberg: A San Francisco Demonstration Photo Shoot

  David Steinberg: My First Disability Shoot

Masturbatathon Performer at Home
David Steinberg: True Art
David Steinberg: The More the Merrier
David Steinberg: Joy, Joy, Joy!
David Steinberg: Irish in San Francisco
David Steinberg: A Strange Coincidence
David Steinberg: An Ever-Growing Friendship
David Steinberg: Late Into the Night
David Steinberg: A Quiet Afternoon of Sexy Play

David Steinberg: An Old Friend and Her New Lover

  David Steinberg:Photographing the Photographer (Part Two)
David Steinberg: An Extra Bit of Vacation Fun
David Steinberg: Sadie and Stacey

David Steinberg: Loving the Camera

David Steinberg: Play Partners
David Steinberg: Reconnecting with a Favorite Subject
David Steinberg: Age Play

 David Steinberg: One of My Very First Shoots

David Steinberg: Traveling to Canada for a Photo Shoot

David Steinberg: A Study in Contrasts­
David Steinberg: One Thing Led to Another

David Steinberg: Playful Long-Distance Lovers on a Sexy Vacation (23 bilder)

David Steinberg: Seven Months Pregnant
David Steinberg: Looks Can Be Deceiving

David Steinberg: Focusing on Faces

  David Steinberg: A Second Photo Shoot with Erotic Performer Sadie Lune

 David Steinberg: A Friend Who Loves to Be Photographed

David Steinberg - A Last Minute Addition

David Steinberg: A Quiet Joy

Siste fra David Steinberg: When a Photographic Subject Becomes a Close Friend​
David Steinberg: A Study in Contrasts: Darkness and Light, Age and Youth

David Steinberg: A Curious Couple Decides to be Photographed

David Steinberg: A Porn Actress at Home with her Husband

David Steinberg: Sexual Theatre
David Steinberg: My Oldest Friend and Comrade with Her New Lover

David Steinberg: Whatever Turns You One

David Steinberg: Respect for Privacy
David Steinberg: Sexual Performance
David Steinberg: A Classic Scene in a Revered Local Playspace